» Company Profile
We, Chemrich Fine Chemicals are in the business of chemicals to be sold in laboratory packing and semi-bulk quantities to various sectors like pharmaceuticals, testing laboratories of all industries and public testing facilities, academic institutes and govt. institutions.

We are in the business with the aim to become top brand and leading catalog company. We pledge to provide material of desired standards and equivalent to international quality to our entire esteemed customers.

We process and market a range of products to cater all sectors of customers and our product range includes basic chemicals, specialty chemicals, rate and research chemicals. Few ranges are as follows :


» Pyridine and its derivatives
» N-Protecting Reagents
» Peptide Coupling Reagents
» Linker for Solid Phase Synthesis
» Amino Acids & Derivatives
» Fmoc-Protected Amino Acids
» Boc-Protected Amino Acids
» Unusual Amino Acids
» Z-Amino Acids
» Amino Alcohol
» N-Methyl Amino Acids
Strength of Reactions
» Grignard Reactions
» Lithiation Reactions
» Suzuki Coupling
» All Kind of Pressure Reactions
» Swern Oxidation
» Heck Coupling Etc

We commit ourselves to high standards of manufacturing practices, quality and service. Our manufacturing set-up is sell equipped with modern facilities to ensure ultimate standards of accuracy, honesty and safety.

We are backed by ultra modern quality control facilities like

NMR – 500 Mega Hz
NMR – 200 Mega Hz
Waters – HPLC

Shimadzu G.C. etc, all the main QC equipment required for daily chemical analysis. This ensures our commitment towards quality.


Quality

"We believe in quality in toto"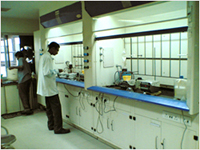 Quality in TOTO is a base of Chemrich fine chemicals. All chemicals listed are subjected to scrupulous testing in our associates Quality Control Laboratories for determination of purity and impurity profile. The purity and physical constants stated herein are typical values; they may vary slightly from batch to batch. Specifications and batch analysis reports are available to customers on request.

We are having ultramodern facility of approx 20,000 sft in L.B.Nagar, Hyderabad where, re-packing activities for the raw material will be carried out. This facility will also act as mother godown for all India distributors.

A complete production and re-processing unit for solvents and key solid items will be raised in Phase-II of the Project.